Since August, MDE-LIO and Michigan Hands & Voices have partnered to send clear face masks and shields to families of children across Michigan who are Deaf or Hard of Hearing (DHH).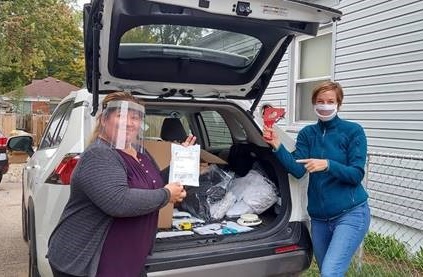 Thanks to the program, more than 600 specialty face coverings have been distributed at no cost to help families facilitate communication with their children. Based on feedback Michigan Hands & Voices has already received, many parents are grateful to be able to better communicate with their children—and other relatives as well.
"Not only can my son better understand me with lip reading and facial cues, but my mom at her nursing home can recognize me. What an amazing gift!" wrote one parent. "These masks are the best clear view we have tried!"
The program also supports two Michigan businesses, Detroit Sewn and Detroit Denim, which supply the face masks.
By the end of the project, more than 700 face coverings will have been distributed to families. MDE-LIO and Michigan Hands and Voices hope this is an inspirational model of collaboration for other states and family organizations and look forward to future combined projects.
Placing a Request
Limited supplies are available. Clear face masks may be requested via Michigan Hands & Voices' Free Face Masks With Clear Windows Google Form.