This summer, Camp Tuhsmeheta (Camp T) offered family programs, overnight camps, and even an independent living skills (ILS) competition for families! Read on to learn about campers' experiences making soda bottle rockets, the winners of the ILS Olympics, and Camp T's updated beep baseball equipment.
Campers Reach New Heights with Bottle Rockets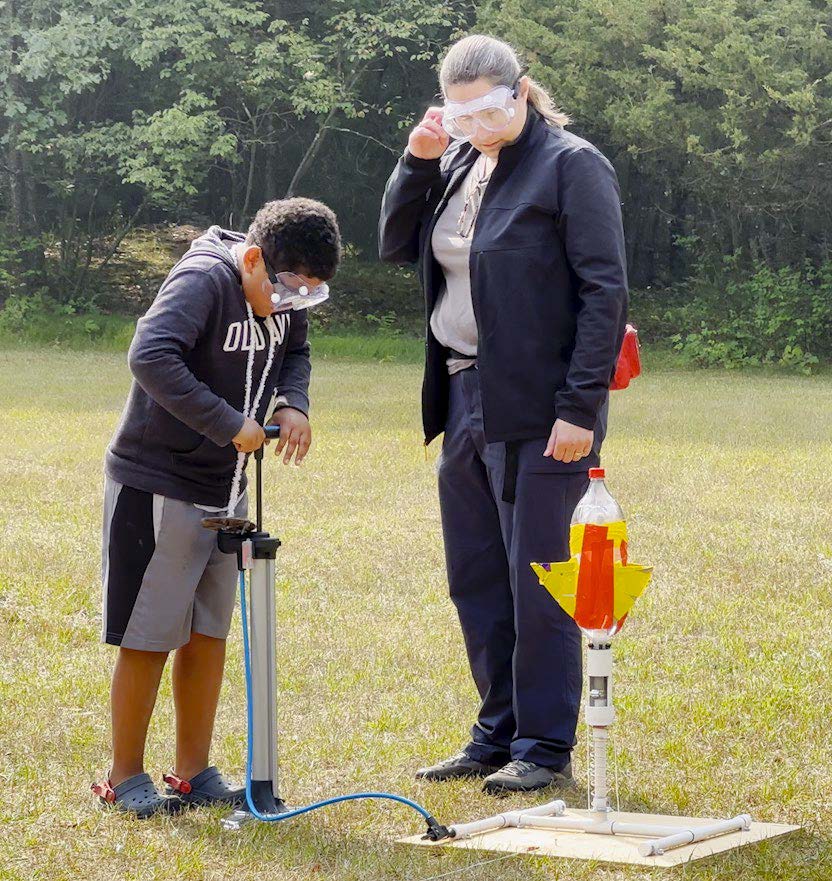 In June, Camp T held its annual Outdoor Adventure Camp for students who are Blind/Visually Impaired (BVI). Campers spent four days and three nights enjoying traditional camp activities such as archery, climbing the rock tower, swimming, canoeing, playing adaptive sports, singing songs, making crafts, and creating delicious treats to enjoy by the campfire. One of the most thrilling activities, however, was the camp's science, technology, engineering, and math (STEM) project: making bottle rockets to launch in the sports field.
To assemble their rockets, each camper was given a two-liter soda bottle. Campers then added wings and canards to help their rocket fly. Campers examined their assembled rockets, considering how air would affect the bottle as it soared through the air. The sports field became the "Cape Tuhsmeheta Space Center," where campers briefly became astronauts, and the treetops represented the edge of the atmosphere.
A little water was added to each bottle rocket before air was pumped in to create maximum pressure for liftoff. Campers counted down together before pulling the string that caused the rocket to shoot up into the air. Camp T Director Jill Teegardin had added an altimeter to the nose of each rocket before launch, and campers were excited to learn how high their rocket had flown.
What was the magic formula for the rocket that flew the highest? More water and less air? Or more air and less water? Or was the craft's design the most critical factor? Some rockets went straight up, while others took alternative paths. One rocket reached a soaring height of 67 feet and set the stage for future campers to beat the record.
Family Wins Inaugural ILS Olympics Trophy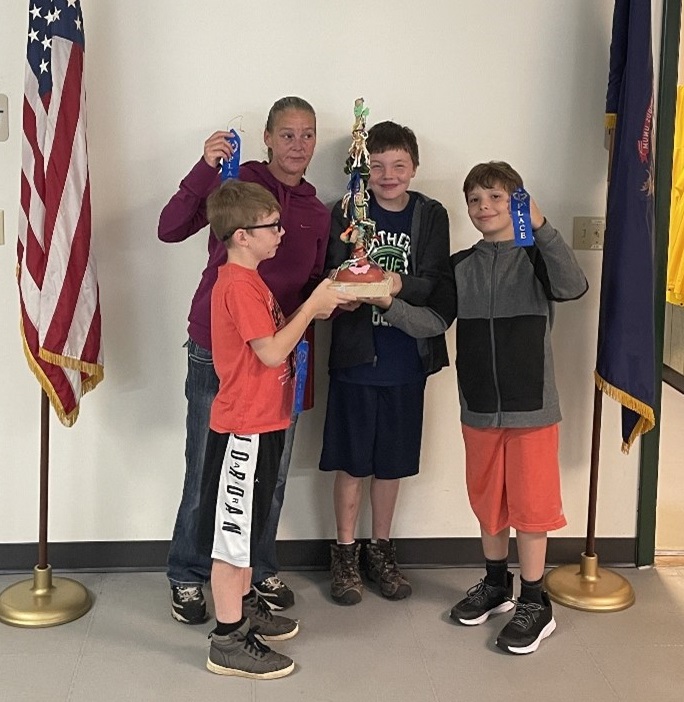 In July, Camp T hosted its first annual Independent Living Skills (ILS) Olympics. Families of students who are Blind/Visually Impaired from around the state gathered at Camp T to showcase their independent living skills during a weekend of head-to-head matchups. Campers first learned skills in the areas of cooking, bed-making, laundry folding, cleaning, organization techniques, and even how to shave. They rotated through stations and were scored on how well they learned their new skills and worked together. When participants were not learning a new skill or competing in a match, they were swimming or fishing in the lake.
In the end, Sara Vankuiken and her sons came out on top, earning the highly decorated toilet plunger trophy. First, second, and third place ribbons were awarded to the top three families. Camp T expects the victors to return next year to defend their title and flush the competition!
New Remote Beep Baseball Equipment Hits a Home Run with Campers
Camp T's beep baseball equipment got an upgrade this year, thanks to Alfonso Medrano, a beep baseball player and equipment maker.
Beep baseball is the game of baseball specifically adapted for individuals who are BVI. Players use a softball-sized ball that makes a beeping sound. Outfielders use only their hearing to locate the ball before the runner reaches a base.
After hitting the ball, the batter runs to one of two bases that emit a tone at random. If the batter can touch the base before an outfielder picks up the ball, they score one run. Up until now, these bases were operated with a box that was hard-wired to both bases. It was a challenge to keep the cords from being in the way during the game or creating a trip hazard. Due to all of the cords involved, handling and storage was also cumbersome.
In 2022, Camp T got in touch with Medrano, who was working on creating more high-tech beep baseball equipment. He ultimately developed a remote-controlled system for Camp T, eliminating the need for cords while keeping the same range and power of a hard-wired system. After developing the system, Medrano tested it out at the 2022 Beep Baseball World Series in San Antonio, Texas. After minor adjustments, the new and improved bases and balls belong to Camp T!