When visiting a middle school on a summer morning, you might not expect to be greeted by two fourth-graders and an eighth-grader running a coffee stand.
But for five weeks this summer, those who stopped by Mount Pleasant Middle School between 8 and 10 a.m. Tuesday through Thursday had just that experience. The coffee stand, consisting of a folding table and chairs, was set up in the entrance area and featured a single-cup coffee machine, hot chocolate packets, cream, sugar, and bottles of water.
The coffee stand was part of a summer program for area students in elementary through high school who are DeafBlind, Blind, or Visually Impaired. From selling coffee and practicing braille in the morning to playing disc golf and working on an art project in the afternoon, students had a chance to practice academic, social, and physical skills.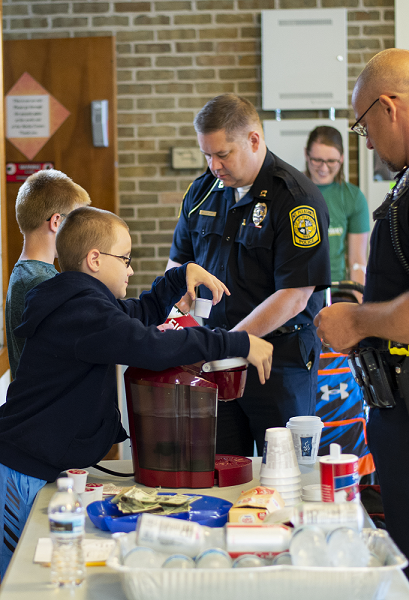 Daryl Dawe, a teacher consultant for students who are visually impaired and a certified orientation and mobility specialist who covers Gratiot and Isabella counties, started the program in 2007 for students who are DeafBlind. He had become interested in intervener work, which refers to specially trained paraprofessionals who work one on one with students who are DeafBlind.
When Dawe came back from a conference on the topic, he knew he wanted to start a summer program to provide extra support for students who are DeafBlind. After a few years, he decided to open the program to students who are Blind or Visually Impaired (BVI). This year, all 11 students in the program were BVI.
Dawe typically plans the program with a handful of paraprofessionals; some have been assigned to a student in the program, and some are provided by the district. This year, four paraprofessionals participated in the program.
Learning Practical Skills
As a man and woman walked through the middle school's front doors and up to the coffee stand, fourth-grader Andrew was ready with his greeting: "Would you like coffee or water?"
"Yes, please," the man said. Everyone laughed.
As the line grew and then thinned out, Andrew and the other students, Egan and Paisley, filled and tallied orders, made change, and replenished and kept track of supplies.
"Making change is kind of tough," Andrew said.
Dawe encouraged the students to practice making small talk when customers arrived and as they waited for their coffee to brew. Paraprofessionals also offered suggestions: don't forget to offer a lid, let the customer know there's cream and sugar. During each lull, Dawe and Adam Malinowski, a paraprofessional, reviewed each student's strength: Andrew was great with small talk, while Paisley, an eighth grader, diligently tallied each order.
Initially, Dawe said the program focused more on academics. The students enjoyed it, but Dawe wanted the students to feel like they were at summer camp instead of school. Now, he mixes academics with outdoor time and engaging activities like the coffee stand.
"They're learning without realizing they're learning," Dawe said.
After the coffee stand closed and a separate braille lesson ended, everyone went outside to complete a small round of disc golf. Dawe declared the school's track a "water hazard" and challenged students to throw their discs over fences and other obstacles to reach the target.
In the afternoon, the students participated in a variety of indoor activities, including working on a collaborative art project, practicing listening skills with an audiobook, and playing Uno with an oversized playing deck. ("Any chance they get, they'll play Uno," Dawe said.) For this year's art project, each student drew an object, such as the Batmobile or a house from a favorite book, and then created a three-dimensional version with air-dry clay.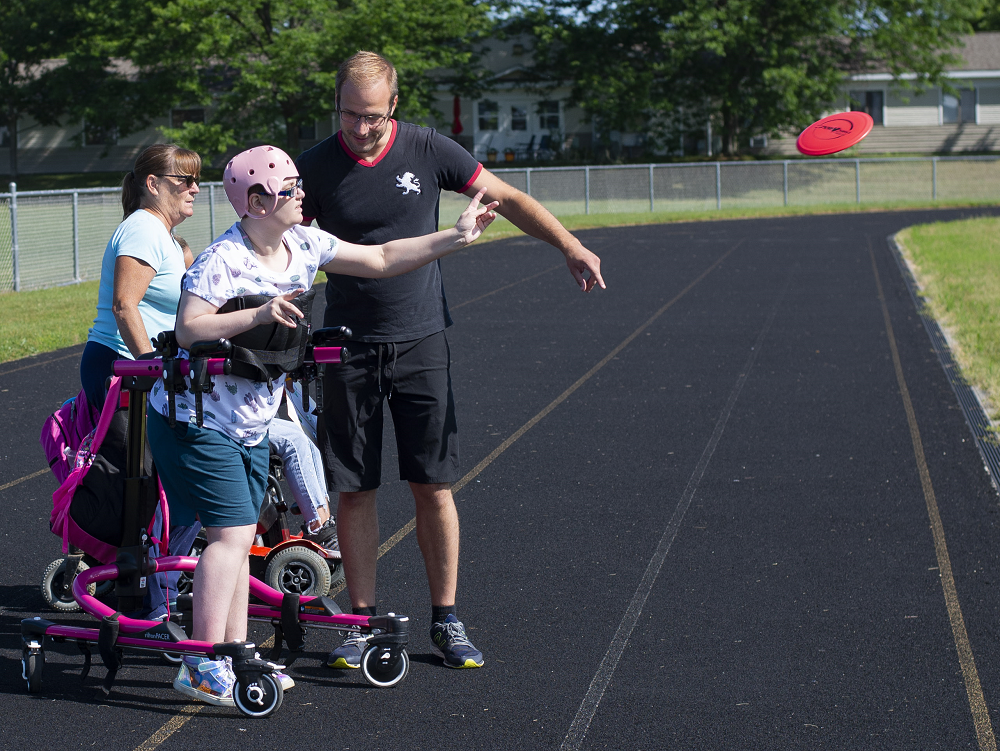 Making Connections
To commemorate their time in the summer program, students create a "yearbook" they can take home as a reminder of fun activities and new friends. At the end of each day, the students write down how it went, and everyone's entries are compiled into a book, which is distributed to each student at the end of the program.
Dawe said a major benefit of the summer program is that it allows students from a variety of districts to meet each other and form friendships. Many of them also tend to come back several years in a row.
"This is one of the few times they see other students with a vision impairment," Dawe said. "It's the astonishment of, 'You have a vision impairment, too?'"
Creating a Similar Program in Your District
Each district is unique, Dawe said. His intermediate school district provided a budget, a facility, and a few paraprofessionals. But he has noticed that local businesses and organizations are often excited to donate to his program. For example, a local kayak company donated kayaks for the students to use one day, and the program receives a sizable donation every year from a Michigan contract negotiation business.
"With a program like this, people get excited about donating," he said.
We Want to Feature You
Have a successful program or initiative in your district for students who are Blind/Visually Impaired or Deaf/Hard of Hearing that you think we should highlight? Submit a news item request by emailing outreach@mdelio.org.