When John Kusku played goalball competitively for the first time, he got a bloody nose.
"I thought it was great," said Kusku, who now plays on the men's U.S. Goalball Team. "I wanted to keep playing."
This past November, Kusku traveled to Ithaca, Michigan to teach goalball skills to seven students in first through sixth grade who are Blind/Visually Impaired (BVI). Goalball is specifically designed for individuals who are BVI; the objective is to throw or roll a ball through the other team's goal.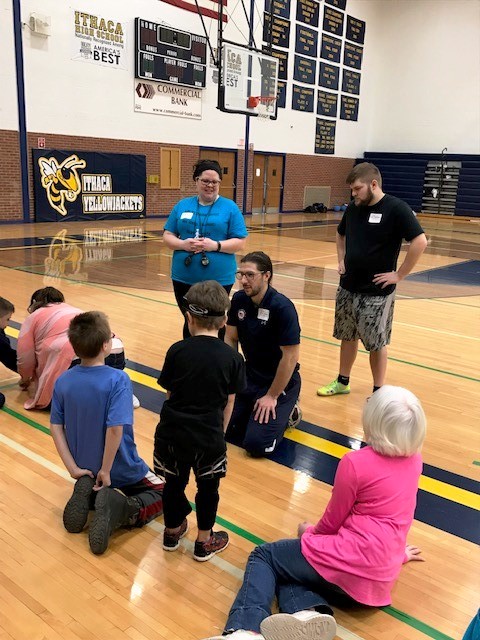 Each team is made up of three players, and all players wear eyeshades to maintain equality among varying sight levels. Bells embedded in the ball help players locate the ball as it is moving. If he had to use a short phrase to explain goalball, Kusku said he would describe it as "anti-dodgeball" or "three goalies against three goalies."
Vision Not a Barrier
A few students at the November event had prior goalball experience, so half the students practiced and developed their skills while the other half learned the basics in the morning. After the students prepared and ate lunch, they split into roughly equal strength teams and first played a test round so Kusku could jump in to provide further instruction. The students then played a game that followed the official goalball rules, and each received a medal in a small ceremony at the end of the day.
Kusku, who teaches math and physics at Oakland Schools Technical Campus Southwest, said he has taught others how to play goalball since he learned to play the sport. As a child, he loved playing sports but held himself back because he knew if he played as hard as he could, he might accidentally hurt himself or someone else due to his visual impairment.
"With goalball, I can play as hard as I want to play and my vision will never be a barrier," he said.
Setting an Example
Kusku said he didn't particularly enjoy playing goalball until he began attending the Michigan Blind Athletic Association's Sports Camp in 1996. He began playing regionally and joined the men's U.S. goalball team in 2009. Since then, Kusku's team has placed in tournaments across the world and earned a silver medal at the 2016 Paralympic Games in Rio de Janeiro. In 2020, the team is set to compete in the Paralympic Games in Tokyo.
"I never knew goalball would allow me to travel outside Michigan, let alone across the world," Kusku said.
Because of his own childhood experiences with sports, Kusku said he wanted to show the students who participated in MDE-LIO's goalball event that they could be competitive.
"It was very good for the students to play with their peers who also have vision impairment," he said. "It was also very good for them to work with me, so they can observe an adult with a vision impairment being successful."
Future Goalball Events
Do you know a student who is interested in goalball? Stay tuned! Over the next few years, MDE-LIO is planning to build a facility at Camp Tuhsmeheta that will accommodate goalball activities for students.